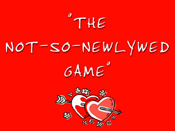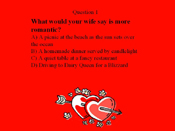 ---
The Not-So-Newlywed Game
---
Game Information:
This game is for Valentine Banquets and was written for adults. Use this game as a filler or as a highlight for your
Church's Valentine Banquet. Editable to insert your own questions, it contains 10 questions total comprising 2 rounds and a final round. Useful for up to 3-4 Couples at a time.
---
Instant Download
$5.00
After payment you will receive download instructions immediately by e-mail!
Click here for Instant Download:

---